Choose Showtime to Buy Tickets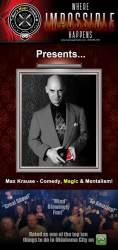 The Comedy, Magic & Mentalism of Max Krause 13+
Ages: 13+ Ages Price: $30 - $70
This Event Has Ended
Max Krause moved to Oklahoma City, OK in September of 2017 from Albuquerque, NM where for almost 5 years his show was ranked as one of the Top 10 things to do on Trip Advisor. Max recently opened Max's Magic Shop and Max's Magic Theatre in OKC and invites you to an intimate performance at his new venue. With seating limited to just 20 people, everyone will get an opportunity to be a part of the show! 
Max's show consists of original effects and routines combining comedy, magic and mentalism to create an experience you won't soon forget and make sure you leave your little ones at home for this one as nobody under the age of 13 is allowed as the performance will be more sophisticated and will last between 60 and 75 minutes.  
Come to a show and see why Max's Magic Theatre will become the MUST SEE experience in OKC!
All shows come with a complimentary bottle of water. 
NOTE: Max apologizes in advance if the show causes stomach and cheek aches from laughter or your head hurts from having your brain scrambled from this experience.